Your house is where you spend time with your loved ones to relax and wind down. So, it must provide comfort and a soothing feeling to you. And this is possible by choosing the colors and theme of your home.
Are you tired of your mundane and dull wall color? Or are you renovating and want to paint your walls to create a colorful masterpiece? You can go for earthy and rustic tones if you want a natural and homey feel. Whereas, if you're going to make a modern look, you can choose whites, greys, and metallic shades for your home. It is entirely up to you and your taste. How cool is that!
There are two ways in which you can go through with this plan for your home or workplace. You can either do it yourself or get a third party to do it for you. Doing it yourself will consume time, energy, and effort. So, it is more efficient to hire a professional painting company and let them get the job done on your behalf.
Top Benefits Of Professional Painting Services in Dubai
Let's see why hiring a professional painting company can benefit you a lot in detail. Here is a list of the top 10 benefits of painting your walls by expert painters.
1. Saves Your Time
Painting is a time taking task. Moreover, it takes more than one day to get completed. It needs patience and careful following of the paint's application and drying procedure to bring out the best result. If you commit yourself to this exhausting task n top of your daily routine tasks, you will burn out and have no proper time for relaxation or your family. Thus, you can quickly free up this time for your family and friends by delegating the painting task to a professional company.
2. The Best Possible Workmanship Each Time
Expert painters stay on top of the latest trends and have a lot of experience that enhances their skills. With it, they ensure that the best possible artistry is displayed each time they provide a service. They provide quality painting services to enjoy smooth, sparkling walls with lasting surfaces. In addition, they can manage their time properly and finish your room with appealing walls and characters every time.
3. Cost Effective
If you want to paint your house or workplace within your budget range, professional painters can help you. How? They have extensive knowledge and can help provide cost-effective solutions for all the stages; pre-painting stage, paint procurement stage, painting stage, and post-painting clean-up stage. In this way, you save a lot of costs. Moreover, you have to pay a fixed amount to the painting company, not per worker, and it also reduces the painting costs per house/ office.
4. Higher Efficiency
Professional painting service providers have in-depth knowledge and skills to paint according to your preferences. In this way, they provide you with your desired result. Moreover, they can take care of all the tasks related to painting. These tasks include purchasing paint, preparing the room for image, painting the room, polishing your walls, and setting up the space for occupancy. And on top of this, they all these tasks within the mutually decided period.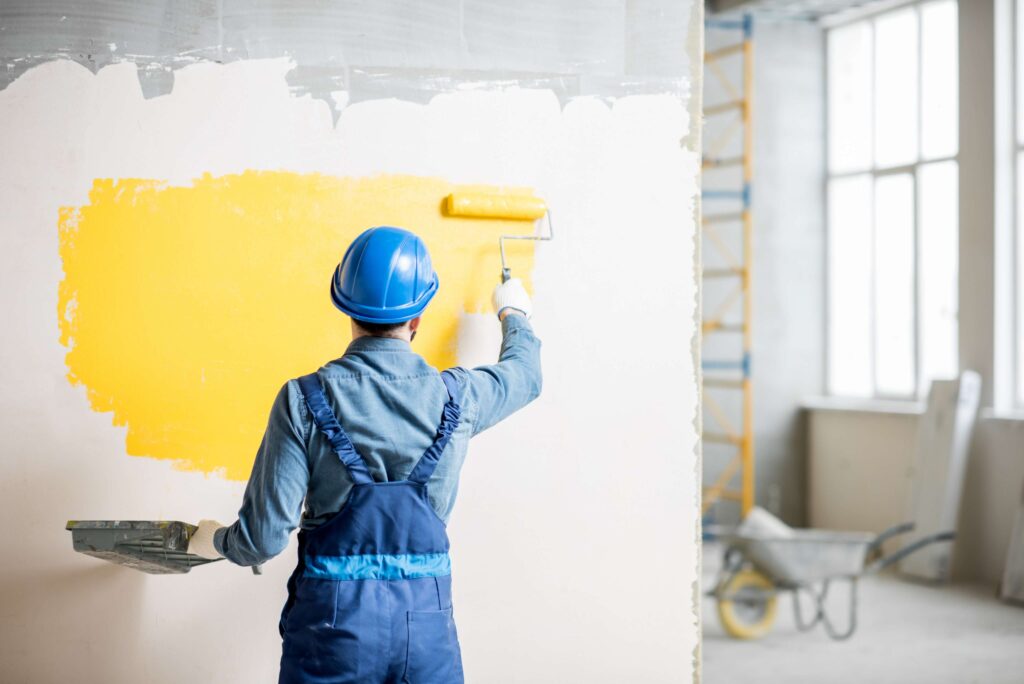 5. Easy Supervision
Hiring professional painting services will free you from hassles like preparing or rearranging the room after the paint is applied, dried, and primed. Instead, you can focus on your daily tasks. You are not bound to watch the painters from a professional company. Infinity Services checks the backgrounds of every employee before they hire. And once hired, they are trained in-house for better proficiency. In this way, professional painters for villas, homes, and offices are much better than local painters. And o, they need little to no supervision.
6. Detail Orientation
An expert painting company will follow a detail-oriented approach and share it with you, just like Infinity Services supports choosing the best colors for your home or office. Why? Because professional experts have insightful knowledge of the relevant products. For example, they choose the right paint type, texture, and quality for a specific room. This information helps them to use the best quality products for every room of the office and home, like kitchens, bathrooms, meeting rooms, personal offices, and much more. Moreover, they can also find any damaged walls and identify the cause so you can timely repair it.
7. Proper Preparation
Expert painters will prepare the room properly before starting the painting process. One example of such preparation is moving the room's furniture, covering the fixtures, taping the edges of ceilings and switchboards, and others. In addition, professional painters also take the necessary steps to prepare the surfaces to be painted properly. This way, they ensure that the paint adheres properly and lasts longer.
8. Usage Of Safe And Quality Materials
We all know how paint is a long-term investment for everyone. It is why it should resonate with the owner of the property as well as the environment of the building. Keeping this in view, professional painting service providers use high-quality paint and other related materials to complete the job. It ensures that the final result is durable and long-lasting.
9. Completion Of Painting In Time
Professional painters keep their process and painting tasks on track to complete their job on time. They agree on a timeline with you before starting their work. Then, they align their work according to that timeline to finish the painting tasks within their deadline.
10. Safety
Wall painters at a professional painting company have the proper training. They are provided with all of the required safety equipment for their job. With these safety gadgets, they make sure that they avoid any accidents while performing their services. These gadgets include drop cloths, painter's tapes, goggles, ladders, and other necessary accessories.
11. Guaranteed Satisfaction
Many professional painting companies offer a satisfaction guarantee. They provide this by offering re-painting services if you do not like the result of their painting service. Moreover, the whole process is communicated to you beforehand. So, you can check in on a significant milestone and ask for changes during the process. In this way, professional painters guarantee your satisfaction.
12. Proper Clean-Up After Completion Of The Job
In contrast to local cleaners, professional painters will clean your room after their job is done. They leave your home or office in a clean and tidy state after they complete their painting services. In addition to this, they also set up your room for you according to your instructions. All this saves you a lot of hassle and exhaustion, as once the painters leave, you can immediately start enjoying the room.
Infinity Services | Providing Quality Commercial And Residential Painting Services In Dubai
Infinity Services is the best home maintenance and painting company in Dubai. Our painting services are highly customized and tailored to your personal needs. Our expert painters will complete painting your residential or commercial property timely and efficient.
Moreover, Our building maintenance company in Dubai also provides free wall painting consultations. You can easily book our painting services with our 60-second online booking process or call our 24-hour emergency number. After that, you can relax because our skilled painters will take care of everything that needs to be done.