Termites Control Services in Dubai
If you are worried that termites are eating away the wood around your property, get our service of termite control in Dubai now!
Termites are one of the most dangerous pests that cause immense damage to the structure of your home, office, or any other property. They make the timber or any other wood structure hollow from the inside out. This makes the structure prone to collapse. Thus, it is essential that you immediately get our service of termites control in Dubai to keep your property safe and sound.
Signs That Show Termite Infestation
Some of the most common signs that give away termite infestation include discolored or droopy dry walls, peeling paint, small point-like holes in drywalls, loose tiles, and squeaky floorboards. Also, if the wood sounds hollow when you tap it, it is also a sign of termites infesting your property.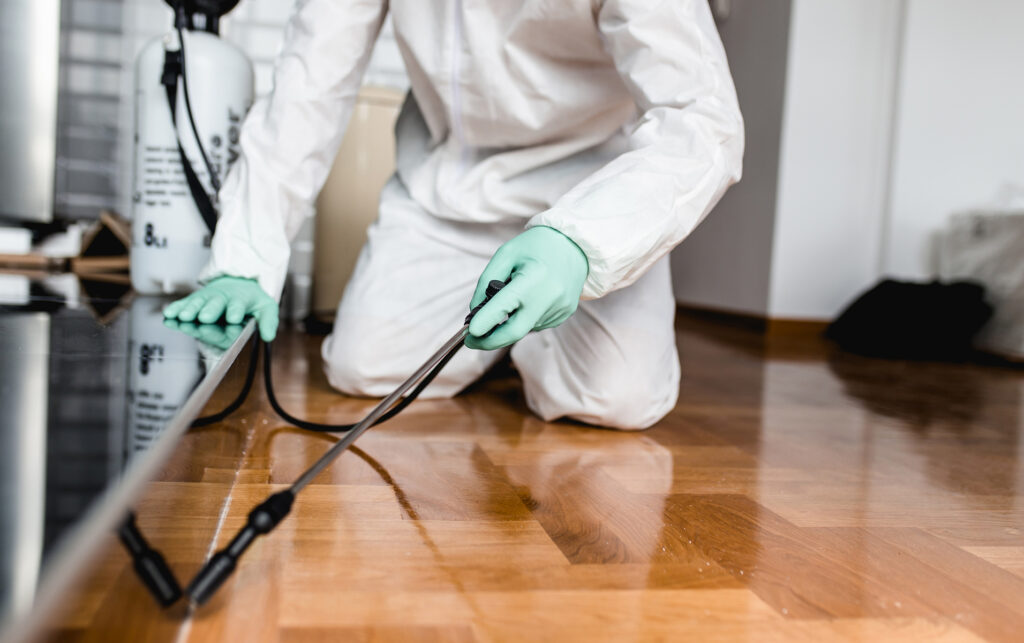 Our Service Of Termite Control Dubai
Infinity Services is a very skilled and experienced pest control service-providing company. We offer our services at very affordable rates at the date and time of your convenience. We also have in-house trained professionals that are highly experienced in providing the best results.
Our service of termites control Dubai is very helpful because we provide all kinds of treatments you need to control termites. These include pre and post-construction termite treatments. Both these times need different methods to be used. Let's see these methods in detail.
The Two Methods Of Termite Control
There are two methods by which termites control can be performed. We offer both of these methods in our services. They are listed down below:
1: Soil Trenching Method
In the soil trenching method, we remove 2 to 3 inches wide and 4 to 5 inches deep slightly loose soil from the property's perimeter. This makes a trench. Then we flood it with a termiticide spray mix to eliminate termites. This method is also good for when you want a termite prevention service.
2: Drilling And Injecting Method
We make holes 8 to 18 mm in diameter 1 to 1.15 m apart from each other. Then we inject the termiticide spray mix with pressure in these holes made around the infested area. This creates a termiticide barrier against the termites. This method is used for post-construction termite treatments.
Two Types Of Our Termites Treatment
There are two types of termite treatments based on time. We offer both of them. They are as follows:
1: Pre Construction Anti Termite Treatment
In this, the termite control service is performed before the construction of your house or office or other building. This prevents the future infestation of termite control in Dubai. This includes all the technical work. For example: using specific insecticides before the placement of any slab. 
2: Post Construction Anti Termite Treatment
In this, the termite control service is performed at any time after the construction of your house, office, or any other structured building. This service is done for two reasons. One, the client wants further proofing against termites. Two, termites have been spotted in the house or their signs are visible.
Book Our Termite Control Service Now!
We all know how much secret damage termites can cause to the wooden parts of your house or office. They will need repair after our termite control service. Infinity Services also offers capable carpentry services in Dubai.
So, without any further ado, get our excellent services now. You can easily book them through our online booking system or you may call our provided phone number that is available 24/7 so that in cases of emergency we can help you immediately.
Quality Assurance
We ensure quality through customer satisfaction, trust, and feedback. We also ensure the quality of work which is the reflection of our logo: 'Your happiness, our pride". We also highly consider our customer's feedback and work on improvement and solutions through that.
Professional Excellence
We ensure professional excellence through our experienced, well-trained workers through in-house training for high proficiency. Our trained personnel are honest and trustworthy and always strive to do their best.