We provide the most genuine service of AC duct cleaning Dubai!
Does it feel like your air conditioner is not working properly? Is it taking too long to warm up/ cool down the room? Do your ducts have unstable or poor airflow? Are your heating/ cooling costs higher than normal? Does your house get dusty and dirty really quickly? Do you smell weird or unpleasant smells from your air ducts?
If your answer to any of the above questions is yes, then you need our duct cleaning and AC cleaning services Dubai. 
Why Get AC Duct Cleaning Services?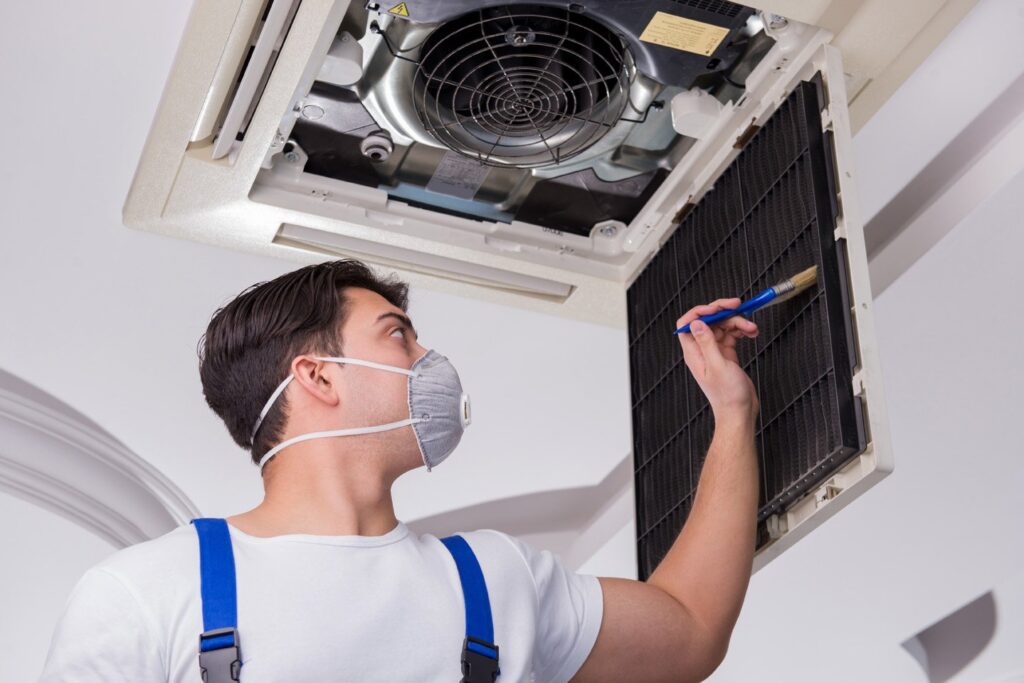 Here are some reasons to get AC duct cleaning in Dubai:
Unclean air ducts create poor indoor air quality which may cause dizziness and lethargy.

It may also instigate asthma and allergies that you and the people around you may have.

Continuous intake of impure air can cause respiratory diseases

It can also cause sinus problems

It can also cause skin-related issues like dry or itchy skin
This is why getting services of AC deep cleaning Dubai is important as it keeps the health of you and everyone around you safe and sound.
Our Service Of Duct Cleaning Dubai
Infinity Services is an AC duct cleaning company Dubai that is not only licensed but also insured for air duct cleaning services and AC cleaning in Dubai. We at Infinity Services are a team of fully capable people who provide top-quality services at very affordable prices that helps you save your money.
In AC duct cleaning, we clean out all kinds of dirt, debris, and harmful contaminants accumulated in your ducts in order to ensure that your air is clean and safe for your health. Our experienced duct cleaners use market-leading equipment that properly cleans the ducts as well as clears out all dirt in a simple procedure that causes no further mess creation.
When To Get Duct Cleaning Done?
Here are some of the situations when you should immediately get our services of AC cleaning Dubai:
If you have newly moved to a new house and have no particular idea that for how long it has been since the air ducts have been washed/ cleaned or cleared out,

If you have observed that the air ducts look dirty while changing any filter.

If you have noticed mildew or mold growth on the duct vents.

If the sound of your AC/ heating system has changed and it now makes a strange noise.

If your ducts smell funny or unpleasant. 
If you are facing any of the above mentioned problems, we can swiftly provide consultation and recommendations for your home/ building or office. This will help keep your cooling or heating systems working at an optimal level.
Looking For Trained Professionals?
The skilled workers and trained cleaners at Infinity Services use highly specialized pieces of equipment; for instance HEPS vacuum cleaners, to clean your air ducts. They will first inspect the whole system upon their arrival at your given destination, Then they will carry out the cleaning procedure with the right tools so that the right result is achieved – clean and sanitized air ducts!
Book Our AC Cleaning Service Dubai Now!
Our team of experts can be at your service at any hour of the day. Our proficient cleaning staff members are fully skilled and trained to perform high-quality services to help you out, therefore, before wasting any further time we encourage you to book our service of air duct cleaning either online or through our 24-hour emergency phone number.
Quality Assurance
We ensure quality through customer satisfaction, trust, and feedback. We also ensure the quality of work which is the reflection of our logo: 'Your happiness, our pride". We also highly take into account our customer's feedback and work on improvement and solutions through that.
Professional Excellence
We ensure professional excellence through our experienced workers who are well-trained through in-house training for high proficiency. Our trained personnel are honest and trustworthy, and they always strive to do their best.