Dubai is known for its adaptive approach to constantly evolving trends and advancements. Being a hub for technical discoveries and a vertical lifestyle, it is idealized by millions of people around the world. However, as a resident, you know that its hot and dry weather conditions can create challenging conditions to maintain a healthy household.
Constant dry weather and sandstorms can cause health issues, especially as the dust settles on your windows, leaving them dirty for germs to cultivate. So if you live in Dubai, getting professional window cleaning services is a necessity for you to properly remove the build-up of dirt and grime on the windows.
In this ultimate guide, we will discuss everything you need to know about window cleaning services in Dubai and what to expect and look for when getting one.
What Do Professional Window Cleaning Service Providers Do?
Window cleaning service providers, like Inifnity Services, have licensed cleaning experts that offer comprehensive cleaning for windows in residential and commercial buildings. Deep cleaning of windows can enhance the aesthetics of your building, boost your property value and create an overall healthy environment.
So whether you need services for your residential area, workplace, rentals, storefront, or high-rise buildings, we design our services to accommodate your every kind of need.
Benefits of Getting Expert Window Cleaning Service in Dubai
Getting professional glass cleaning services in Dubai will help you with the following:
A well-organized place: Clean windows enhance the look and feel of your site, giving it a more organized and hygienic appearance.
Improved property value: Clean windows increase the value of your property as they give an overall more enhanced look, making them more appealing to potential buyers or renters.
Avoid any risks: Professional window cleaners have the necessary training and equipment to safely clean high-rise buildings and difficult-to-reach windows. So you don't have to risk losing your potential.
Save your time: Cleaning windows can be time-consuming and tedious. Hiring a window cleaning service can save you time and effort.
Healthy environment: Clean windows also contribute to a healthy environment by reducing harmful pollutants and allergens.
Invest wisely & save budget: Deep window cleaning service can save you money in the long run by reducing the risk of damage to your windows and preventing the need for costly repairs or replacements.
What Factors Should You Consider When Hiring Window Cleaners?
Before booking the service, make sure you consider each of the following aspects to ensure your best experience:
Reputation: Look for a reputable company with a proven track record of delivering quality services. At Inifnity Services, we prioritize providing efficient solutions as we take pride in our services and satisfied customers.
Experience: Trust a company with years of experience in the industry and a team of trained and skilled professionals.
Availability: Book a company that can provide services at your convenience. We offer flexible scheduling, allowing you to book the appointment for the time that suits you best.
Efficiency: You might need the cleaning service on an immediate basis on some spontaneous occasion. We provide same-day availability service, allowing you to get quick solutions to your problems.
Infinity Services is one of the most trusted Dubai-based glass cleaning companies in Dubai. Once you book an appointment through our efficient 60-second process, our team will come to your place at your selected time with all equipment, solutions, and formulas required for the procedure.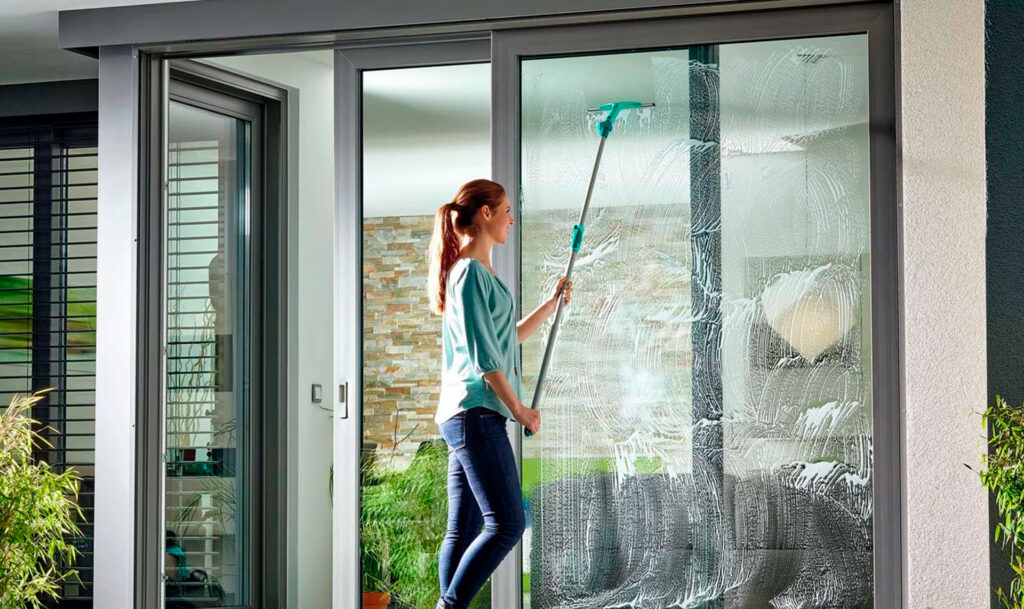 It is difficult to say how long the process will take as it depends upon the number of windows at your location, whether you require external, internal, or both cleaned, and their condition. Meanwhile, our technicians are trained and experienced in cleaning all kinds of windows, including single pane, double pane, french pane, skylights, glass panels, and storm windows.
What to Expect with Infinity Services
So if you are looking for a reliable and professional window cleaning service in Dubai, Infinity Services is the way to go. We take window cleaning to a whole new level of excellence. By utilizing state-of-the-art equipment and premium cleaning solutions, we guarantee that your windows will shine like never before, free from unsightly streaks or blemishes. Trust us to deliver outstanding results that will leave you amazed and delighted with the clarity and beauty of your windows. You can schedule our service on a regular, one-time, or immediate same-day basis.
Explore our window cleaning services,