Are you looking for Office Cleaning Services Dubai? Are you one of those company owners who have positive leadership skills? What is the connection of leadership with cleaning? A good leader is always concerned about his working people and the environment. Moreover, it is a psychological fact that every human performs better if they have a neat and hygienic workplace.
In addition, there are several other reasons you want to keep your workplace as clean as your home. It is necessary to make your office a visually attractive place. Moreover, a cluttered and messy office also leaves a wrong impression on the clients.
Generally speaking, it takes four times more effort and time to clean an office yearly than it takes for a home. However, it is the best decision to hire good office cleaning services in Dubai and get your office cleaned on a daily/weekly basis. This saves you time, money, and energy. To create a solid first impression on your new clients, every office's corner and curve needs a thorough cleaning session.
Following are five quick tips to help you work in a clean environment today. To keep up your office appearance, let's dig in!
1. Organize The Scattered Stuff
Whether it is your home or office, daily organization is essential to start your day as an accomplished one. Moreover, it makes your surroundings presentable and welcoming.
Additionally, it is the worst thing in an office if dirt and mess start to pile up. However, spotting out the ground and getting it cleaned immediately is better than making it unmanageable later on. Consequently, this saves you time and money both.
3Although getting things cleaned is a good idea, you shall also keep good rules at your office. For instance, no eating and drinking allowed at the desks, no harm to the office property will accept, etc.
How To Declutter The Office Space?
An office means piles and heaps of paperwork. However, properly organizing these papers in files and bookshelves works well. In contrast, you shall not throw them in the corners of the office as it displays a messy look.
Moreover, if kept properly, it is easier to refer back to those papers. You can use cabinets and desktop trays to keep the paperwork according to your need. In addition to this, proper labeling on the files will help you keep an organized office as well.
2. Dry Dusting
Dry dusting is the best way to keep your office dirt-free daily. It is a good habit. However, it makes you feel accomplished and satisfied that your work area is clean and hygienic. 
The desktops, the desks, windows, and the other office furniture need to organize and dry-dusted daily to avoid the pile-up of dust causing fungi and bacteria later on. According to the statistics on office cleaning services in Dubai, offices receive more dust in the open areas because of the windows. Moreover, dust can cause severe health and respiratory issues as you must spend more than half of your day at the office. So it would be best if you kept in mind the cleaning rules to achieve better results.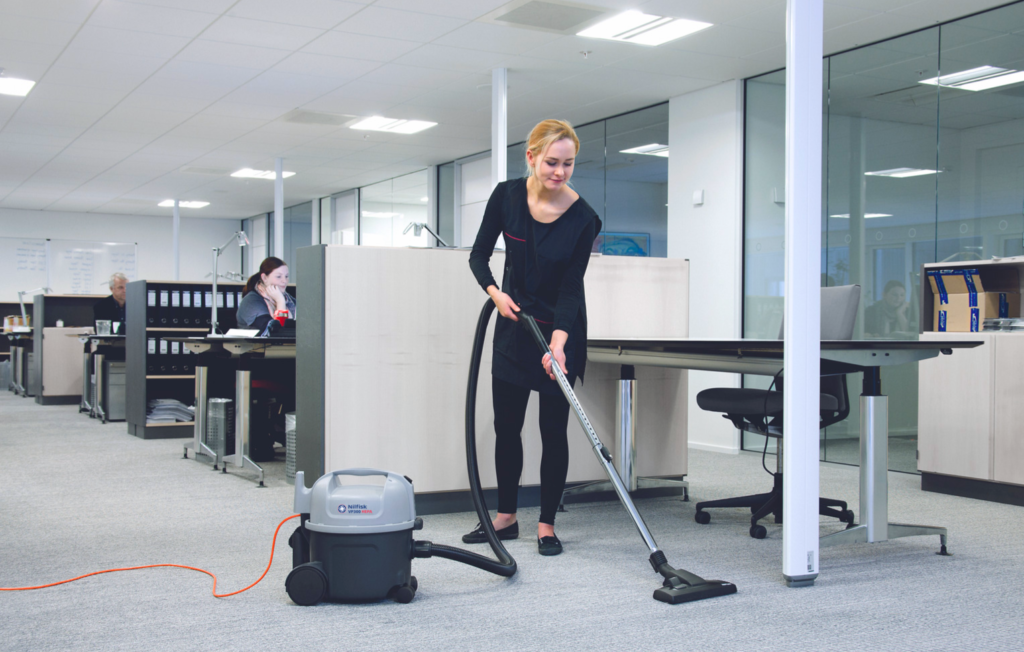 3. Disinfect The Restroom
Cleaning the office is not only a healthy decision for your workers but also for the clients. The restroom is the place that is used for the entire day. However, it needs good cleaning and sanitization daily. 
On the other hand, more than keeping your internal space clean is needed; restrooms also give a strong impression on your office. A well-maintained, pleasant-smelling office restroom makes your office a better place.
The restrooms need scrubbing of the toilets and wiping off the walls, floors, sinks, and other areas of the bathroom. Moreover, disinfecting the entire restroom to avoid spreading bacteria is also a must. In the end, you need to mop the floors and use fresheners to make a good move.
4. Clean The Public Area And Meeting Rooms
If the nature of your business is for clients to visit your office, then a clean environment gives the first impression to the clients of responsibility. However, it would help if you gave special attention to making your workspace clean and presentable.
The public area is the place that acts as the ambassador of your business. Undoubtedly a clean room will welcome your customers. So it would help if you kept the seating furniture free of dust and stains. Moreover, keeping all the reading material, decoration pieces, paintings, and other stuff clean also positively impacts your clients.
Contrary to that, the meeting rooms are where the most critical decisions occur. Moreover, a clean and tidy meeting room helps enhance the productivity of your employees and workers.
Remember, a clean place is always welcoming to people. A psychologically proven fact is that people perform better when they are satisfied with their surrounding environment. So this cleaning part shall always be completed!
5. Hire Professional Cleaning Services 
Lastly, office owners need more time to follow these cleaning tips. The reason is that they have to look after the workload and the working team. However, the best advice would be to let experts take over.
Besides everything, a 9-5 office gives you no time to fulfill the extra chores essential for your business's well-being. However, the solution lies in hiring authentic office cleaning services in Dubai to ease your cleaning burden. As professional cleaners cover all the aspects in one go. For example
● Complete office care
● Deep cleaning services
● Carpet and floor cleaning
● Window cleaning 
● Organization and decluttering of the office,
In conclusion, you can approve a budget and a checklist for professional office cleaners to avoid wasting your time and energy on cleaning. This will enhance your office productivity.
Final Remarks
In a nutshell, Infinity Services provides qualitative services covering all deep cleaning of office work on a single platform. We have an expert team of trained professionals who offer customized cleaning plans hourly, weekly, and monthly. We are available 24/7 for your services. Moreover, we use the best equipment possible for your better office cleaning.
Are you ready to boost your employee's work productivity? Learn more about Infinity services!